Prestress Concrete
Concrete in which there has been introduced internal stresses of such magnitude and distribution that the stresses resulting from given external loadings are counteracted to a desired degree. In reinforced concrete members the prestress is commonly introduced by tensioning the steel reinforcement.
This internal stress is induced into the member by either of the following prestressing methods:
Pre-Tensioning : Apply prestress to steel strands before casting concrete;
Post-Tensioning : Apply prestress to steel tendons after casting concrete
Pre Tensioning
Pre-tensioned concrete is almost always done in a precast plant. A pre- tensioned Prestressed concrete member is cast in a preformed casting bed. The BONDED wires (tendons) are tensioned prior to the concrete hardening. After the concrete hardens to approximately 75% of the specified compressive strength f'c, the tendons are released and axial compressive load is then transmitted to the cross-section of the member.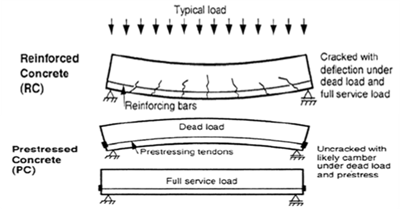 The tensile force in the stressing steel is resisted by one of three methods:
Abutment method – an anchor block cast in the ground.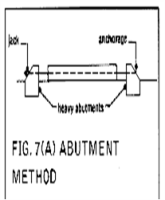 Strut method – the bed is designed to act as a strut without deformation when tensioning forces are applied.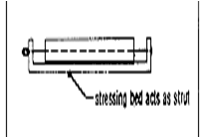 Mould method – tensioning forces are resisted by strong steel moulds.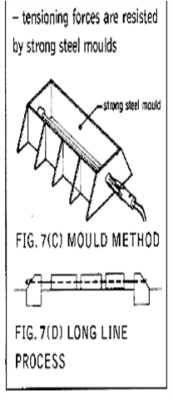 It is usual in pretensioning factories to locate the abutments of the stressing bed a considerable distance apart so that a number of similar units can be stressed at the same time, end to end using the same tendon. This arrangement is called the "Long Line Process".
Post Tensioning
Post-tensioning is the application of a compressive force to the concrete at some point in time after casting. When the concrete has gained strength a state of prestress is induced by tensioning steel tendons passed through ducts cast into the concrete, and locking the stressed tendons with mechanical anchors. The tendons are then normally grouted in place.
Grouted Post-Tensioning System (Bonded PT System)
Quite an old method.
Predominantly meant for bridge construction.
Multi-strands (many cables) are anchored with a common anchorage.
Grouting is necessary for Protection of cables (Primary Reason)restricting the movement of cable within duct to surrounding concrete.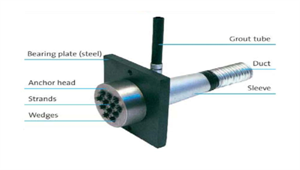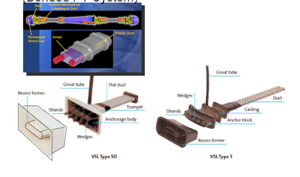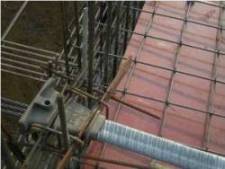 Unbonded Post-Tensioning System (Mono-Strand PT System)
Evolved from Grouted Post-Tensioning System before 1950 for Building Construction Application
No need of grouting (Grouting activity is eliminated)
Saving of Cost and Time and Material ?Installation made easier and flexible
Mono-strand System
Each cable can be managed individually
Induces less stress concentration to green concrete
It can work efficiently in lesser depths where ducts can not work efficiently
Better elastic behavior as far as earthquake event is concerned. Post-quake residual deformation is lesser.
Post Tensioning Patented Systems
Freyssinet system
Giffod-udall-CCL
Lee-McCall
Magnel-Blaton
Procedure of Post Tensioning



Placing tendons
Tendons are housed in tendon ducts and the ducts are fixed in their predetermined alignment, level and profile. (Sometimes the tendons are threaded through the ducts after concreting.)
The tendon ducts shall be securely tied to the reinforcement to prevent dislodgment during concreting.
Concreting
Insitu concrete is cast. It is then cured as normal reinforced concrete.
Stressing (Tensioning)
Stressing can be carried out when the concrete has achieved sufficient strength. Stressing is performed by using a hydraulic jack.
During stressing, the readings of load and extension are recorded. When about one-half of the designed stressing load has been reached, a graph of load against extension is plotted. An extension correction is obtained from the plot by extrapolation method.
Stressing is continued until the designed load has been reached. Check if the corrected extension matches with the theoretical value. If it does, the tendon can be wedged to the anchorage. Otherwise, remedial action shall be taken.
Grouting
The ducts are grouted with cement grout through the grout holes/tubes to protect the tendons from corrosion.
Prestress Concrete Uses
Railway Sleepers;
Communications poles;
Pre-tensioned precast "hollowcore" slabs;
Pre-tensioned Precast Double T units – for very long spans (e.g., 16 m span for car parks);
Pre-tensioned precast inverted T beam for short-span bridges;
Pre-tensioned precast PSC piles;
Pre-tensioned precast portal frame units;
Post-tensioned ribbed slab;
In-situ balanced cantilever construction – post-tensioned PSC;
This is "glued segmental" construction;
Precast segments are joined by post-tensioning;
PSC tank – precast segments post-tensioned together on site. Tendons around circumference of tank;
Barges;
Prestress Concrete Advantage
Prestressing minimises the effect of cracks in concrete elements by holding the concrete in compression.
Prestressing allows reduced beam depths to be achieved for equivalent design strengths.
Prestressed concrete is resilient and will recover from the effects of a greater degree of overload than any other structural material.
If the member is subject to overload, cracks, which may develop, will close up on removal of the overload.
Prestressing enables both entire structural elements and structures to be formed from a number of precast units, e.g. Segmented and Modular Construction.
Lighter elements permit the use of longer spanning members with a high strength to weight characteristic.
The ability to control deflections in prestressed beams and slabs permits longer spans to be achieved.
Prestressing permits a more efficient usage of steel and enables the economic use of high tensile steels and high strength concrete.
More efficient members (i.e., smaller members to carry same loads)
Much less cracking since member is almost entirely in compression
Precast members have very good quality control
Precast members offer rapid field erection
Prestress Concrete DisAdvantage
More expensive in materials, fabrication, delivery
Heavy precast members require large cranes
Somewhat limited design flexibility
Small margin for error
More complicated design
Forum Threads
Study Notes PDF
Study notes of PRESTRESS CONCRETE (Construction Material)
construction material-prestress concrete.pdf
Register in Front Desk Architects & Planners Forum to download above PDF
Disclaimer
Information on this site is purely for education purpose. The materials used and displayed on the Sites, including text, photographs, graphics, illustrations and artwork, video, music and sound, and names, logos, IS Codes, are copyrighted items of respective owners. Front Desk is not responsible and liable for information shared above.