Timber is one of the most important building materials, Timber is self renewing and trees have always exerted significant effects on people and the environment.
Timber is an essential component of building constructed in all other materials –generally as scaffolding or levers or Specifically as centering for masonry , formwork for lining for concrete or fixing for steelwork.
Hardwood
Hardwood is produced by trees that have broad leaves – lose them in winter – reproduce them in spring. Species are oak, pecan, walnut, ash, cherry, birch, etc. Slow growth.
Softwood
Softwood is the type that comes from trees that have needles, are evergreen, do not lose them in winter. Species include pine, fir, spruce, larch, cedar, etc. Fast growth. Much more plentiful than hardwoods.
Qualities of Wood
The material wood is:
Strong
Light
Easily handled, worked, & shaped
Fastened quickly & economically
Recyclable
Biodegradable
A renewable resource
Sketch showing differential shrinkage in the tangential and radial directions as per is code 3629-1986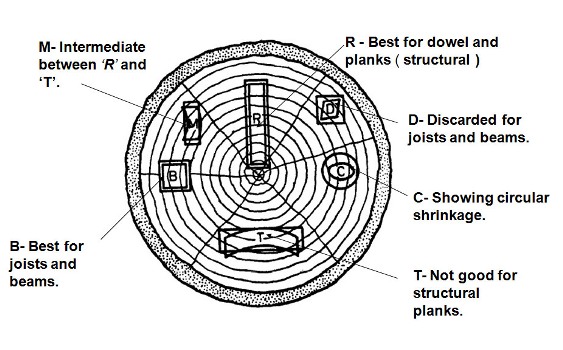 Undesirable Characteristics of Wood
Not perfectly straight
Affected by moisture
Has growth defects
But can be protected from:
Splitting & warping
Burning
Decaying
Attack by Insects
Tree Composition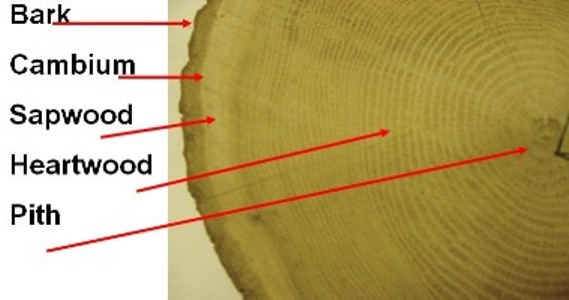 Tree Growth
Springwood (earlywood)
Faster growth
Cells larger and less dense
Summerwood (latewood)
Slower growth
Cells smaller and denser
Construction Uses for Wood
Structural Framing
Subfloors and Roof Sheathing
Finish Siding ( generally all softwood)
Finish cabinetry, trim, & paneling (generally hardwood)
Engineered Wood
Wood used in construction includes products such as :
chipboard,
hardboard,
medium-density fibreboard (MDF),
oriented strand board (OSB).
Such wood derivatives are widely used: wood fibers are an important component of most paper, and cellulose is used as a component of some synthetic materials. Wood derivatives can also be used for kinds of flooring, for example laminate flooring.
Engineered Wood Panel Products
Why Panelize?
More "controlled" product
Efficient use of forest products
Increase labor productivity
Types
Plywood panels
Composite panels
Non veneered panels
Veneered Panels – Plywood
Thin layers of veneer glued together
Odd number of veneers
Alternating direction of veneers
Face veneers parallel
Size: 4'x8' panels
Thickness: ¼" to 1"
Plywood came into wide use in the 1950s because of increase in labor cost.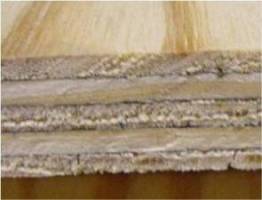 Non-veneered Panels
Oriented Strand Board (OSB)
Waferboard
Particleboard
Fiberboard

Oriented Strand Board (OSB)
Has long strand-like wood particles
Grain orientation alternates (3-5 layers)
Glued and compressed
Strongest of the Non-veneered
Uses: Sheathing for floor, roofs, & siding

Waferboard & Particleboard
Waferboard
Weak material
Large wafer-like particles – No orientation
Uses: Low moisture areas
Particleboard
Weak material
Small wood particles
No orientation
Uses: Low moisture areas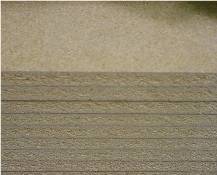 Both products are inferior where strength is required and moisture is present.
Wood Polymer Composite Planks
"Artificial Wood" not in wide general use because it is new and untested. Probably will be used extensively in the future because of its stability, durability to weather, and resistance to insects.
Advantages:
Decay Resistance
Easy Workability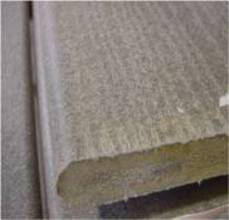 Constructing the Wall Framing
Build on the Platform & Tilt-up or
Build in Place

Wall Framing Layout, Framing Member Size & Spacing
Loads Vertical & Lateral
Floor Loads, # of Stories, Roof Loads, Wind, Quake
Minimum – Code Requirements
Attachment of:
Exterior and
Interior Finishes
Opening Locations – Doors & WindowsInsulation Requirements (may elect to use 'deeper framing to accommodate thicker insulation)
Wall Sheathing
Materials:
Typically – OSB or Plywood
Insulating Sheathing – (no structural qualities)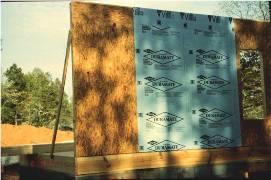 Sheathing Purposes:
Joins & stabilizes the structure
Resists uplift
Resists wracking- Resists lateral forces
Provides surface for finish material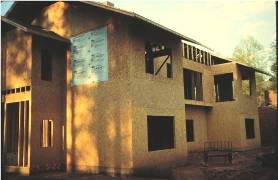 Roof Profiles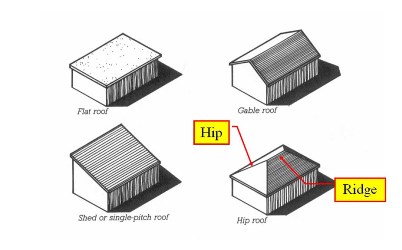 Flat Roof
Single Pitch
Gable Roof
Hip Roof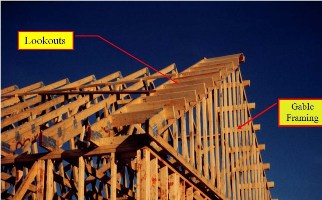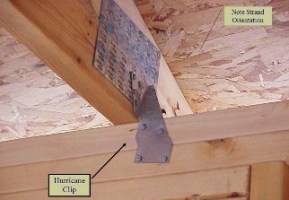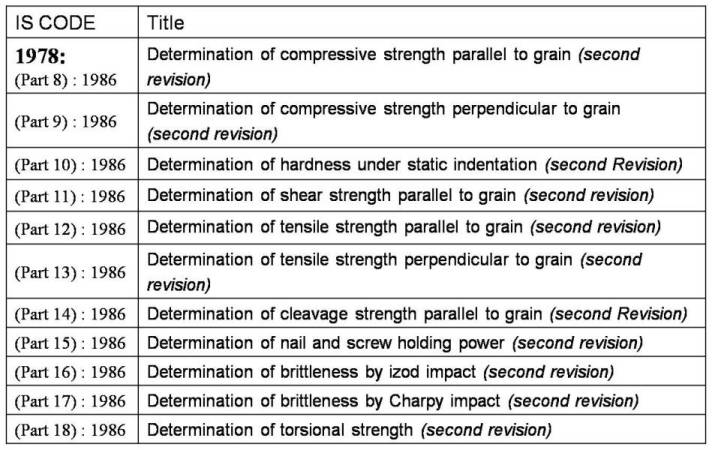 Information on this site is purely for education (students / users) purpose. The materials used and displayed on the Sites, including text, photographs, graphics, illustrations and artwork, video, music and sound, and names, logos, IS Codes, are copyrighted items of respective owners. They are provided here just for refrence/information.
For your views and discussions Register in FDAchitects Forum …