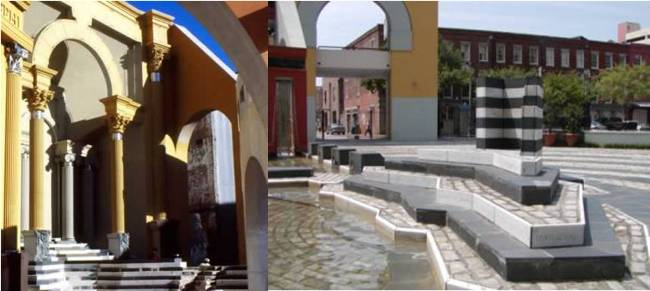 Post Modernism architecture
Modernist architecture –when the cube was king-didn't age well. As time passed, grime streaked flat, concrete walls, like wrinkles carved into a smooth face. Glass-paned skyscrapers lost their shine. Stripped of ornament, abstract forms that once seemed ultramodern appeared just plain blank by the 1970s. In scaling up from the margins to the mainstream, Modernism went awry.
What shook up the architectural world and broke the stranglehold of slick, geometric forms was a book by Robert Venturi, Complexity and Contradiction (1966). ―Architecture is evolutionary as well as revolutionary.
During the 1970s and '80s, buildings termed Postmodern were decorated not only with color –but with a Classical elements like slightly out-of-whack columns. Architects liberally tacked on miscellaneous borrowings from all periods of history. Sleek was gone―Anything goes was booming.
By the 1990s, picturesque Po-Mo had been so overdone, plastered on every suburban strip mall facade, it was declared passé. The next thing was Deconstructivism, a cerebral style of spiky angles and fractured forms. Decon practitioners claimed the style reflected cultural chaos at the end of the millennium.
Since 1960s, the mainstream has split into multiple branches. Diversity reigns, with a push for sustainable (environment-friendly) design gaining ground.
Charles Moore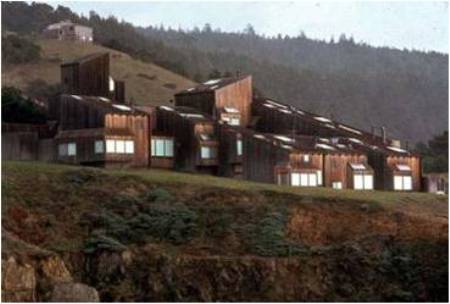 For Charles Moore (1925-1993), an archetypal Post-Modernist who heaped on multiple allusions, more was never enough.
An outspoken opponent of anonymous bedroom suburbs and interchangeable cities, Moore wanted architecture to recapture a lost ―sense of place. each commission was an opportunity to highlight what the ancients called ―genius loci,or special attributes of a site.
Moore's Sea Ranch housing (1965-72) on the California coast was an extreme example of ecological architecture.
The houses modeled on local barns, are nestled into the site, sheltered from the prevailing wings.
Slanted woods both deflect wind and collect sun
Charles Moore : Piazza d'Italia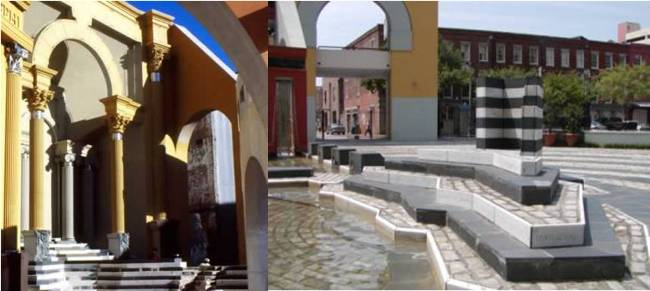 Moore stressed the need for "joy" in architecture. A MIX of historical forms, in his relation to high and low culture.
Moore refer indirectly to historical motifs only to put-on them. His capitals consist of water jets shaping Corinthian ―leaves
Stainless-steel Ionic volutes and streams of water flowing down columns to suggest fluting are a naughty takeoff on Classical style. In a high-camp parody, medallions shaped like Moore's head spout water

Michael Graves
Michael Graves (b.1934), who originally wished to be a painter, color-codes his building to create what he calls ―metaphorical landscapes.
His shades are derived from nature, such as blue as an analogy for sky, green and earth tones for landscape. It is as if he is carving his own mount, at the same time adorned with his personal interpretation of Classical motifs.
He wants his architecture to be capable of being read by anybody
Portland Building, at Portland, Oregon, 1982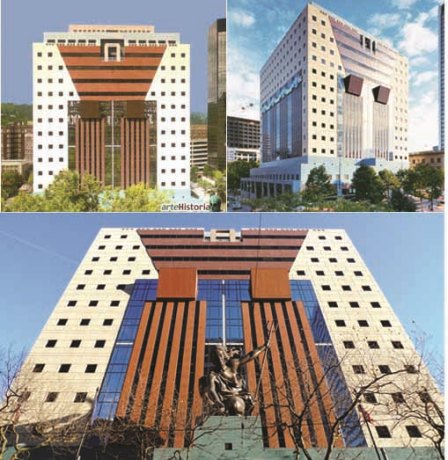 Humana Building, Louisville
Each side of the building has slightly different designs. The form of the upper few floors are designed as a sloping pyramid. The building is famous because of the flat pink granite that covered the exterior façade.
The loggia on the building's north facade is respectful to the older downtown architecture, and in a way continues the store front line of the original street fabric.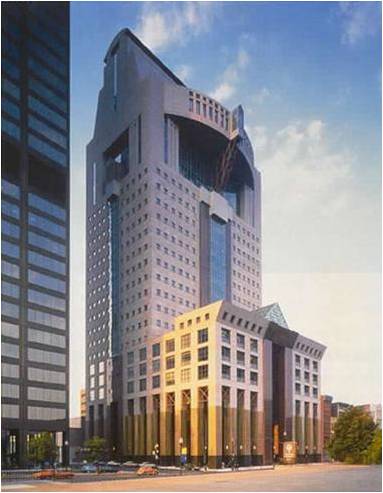 Robert Venturi & Dennis Scott Brown
Robert Venturi might be considered as one of the fathers of Postmodern architecture.
He is also known for coining the maxim "Less is a bore" as antidote to Mies van der Rohe's famous modernist dictum "Less is more".
Together with his wife, Dennis Scoot Brown, Venturis are running an architectural office and their designs forced the American architects and planners to reconsider the Modernist sway of architectural practice, and to perform a more humanist architecture that belongs to American traditions.
Vanna Venturi House, Philadelphia, PA, 1964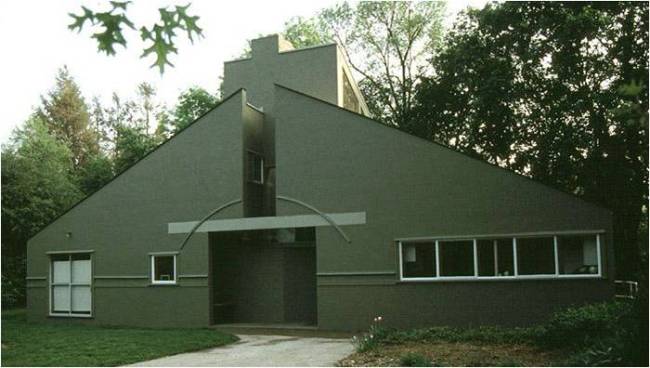 Venturi designs this building for his mother. The design of the building embodies several "complexities and contradictions": it is both complex and simple, open and closed, big and little
some of its elements are good on one level and bad on another
Its order accommodates the generic elements of the house in general, and the circumstantial elements of a house in particular.
It achieves the difficult unity of a medium number of diverse parts rather than the easy unity of few or many motival parts
The contradiction between inside and outside, however, is not total: inside, the plan as a whole reflects the symmetrical consistency of the outside; outside, the perforations in the elevations reflect the circumstantial distortions within.Concerning the inside,
the plan is originally symmetrical with a central vertical core from which radiate two almost symmetrical diagonal walls that separate two end spaces in front from a major central space in back. This almost Palladian rigidity and symmetry is distorted, however, to accommodate to the particular needs of the spaces: the kitchen on the right, for instance, varies from the bedroom on the left.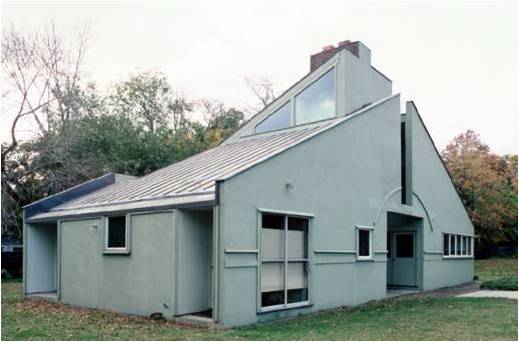 Philip Johnson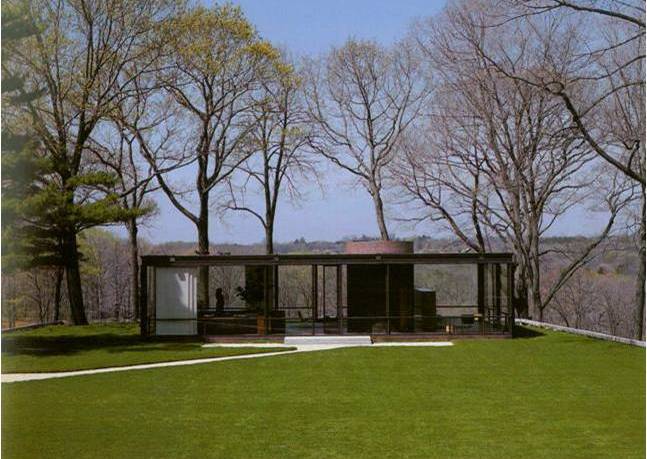 Derived from Mies van der Rohe's Farnsworth House (1946–51) at Plano, IL, but more classical in plan, the Glass House attests to Johnson's naturally critical turn of mind and his preoccupation with history.
Johnson is best known for his Post-Modern structures, like AT&T (now Sony) building. This granite clad skyscraper sounded the death knell for minimalist glass boxes. With its Classical loggia at the base and Chippendale top, it certified the marketibility of Post-Modernism. It borrows elements and references from the past and reintroduces symbolism to architecture.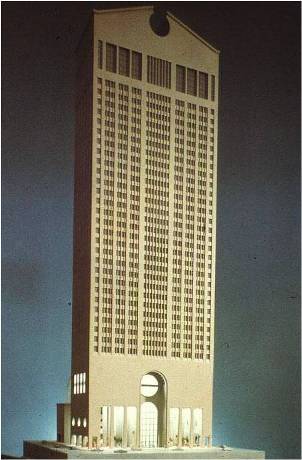 JAMES STIRLING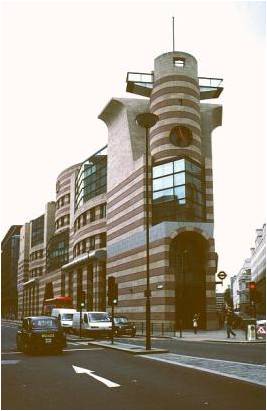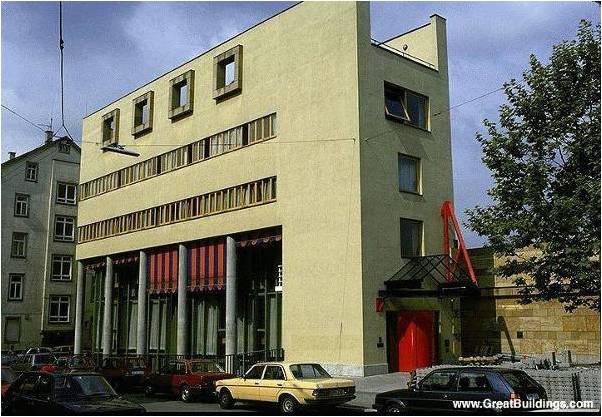 Dissonance (Inharmonious) as an Aesthetic Strategy:
In his vivacious and engaging design for the New Staatsgalerie (New State Gallery) in Stuttgart, Germany, James Stirling combined classical forms with bright green, pink, and blue painted elements and seemingly imbalanced lines meeting at awkward and unpredictable angles
Slide Show Presentation
Forum Threads