Housing is a basic need of man. In importance, it is third after food and clothing. Even the Neolithic man who lived between 10,000 and 2000 B.C. built durable habitation like pit dwellings, lake dwellings and beehive huts. However, its functions increased manifold over the years.
Housing means provision of comfortable shelter and such surrounding and basic services as like water, sanitation and social infrastructure like school, health centers or communication facilities as would keep the occupant fit and cheerful all the day of the year.
Housing thus has to be defined as 'Shelter plus service' and therefore to be considered within the larger framework of Human Settlements.
Dwelling Unit
Dwelling Unit is defined as the accommodation occupied by a household for its residential purpose. It may be an entire structure or a part thereof or may consist of more than one structure. On the other hand of more than one household may be found to occupy a single structure such as those living in independent flats or sharing a single housing unit, in which case there will be one or more dwelling units depending upon the number of households in occupancy of the structure.
"Dwelling Unit" means a structure or the part of a structure that is used as a home, residence or sleeping place by one person who maintains a household or by two or more persons who maintain a common household.
Different Types of Housing
Housing can be divided under following category
A. Occupancy type

Owned dwelling Units
Quarters ( dwelling units allotted/provided by employer private/public for specific period of time)
Other rented /hired accommodations

B. Type of Construction

Single Detached House
Semi Detached House §Row House
Tenements – Group Housing, Apartments/Flats- Low rise, Mid rise and High rise, Skyscrapers
Slums, Chawls, Bastees
C. Type of structure : The structures have been classified into three distinct categories, on the basis of the materials used in construction thereof.

Pucca,
Semi-pucca
Katcha,
Housing classifications : Based on the Occupancy
Owned dwelling Units – A household has owner-like possession of the occupied dwelling constructed on a plot of land taken under long-term lease (usually 30 years or more) then it is treated as "owned". Likewise, the dwelling unit possessed under a long-term lease by the household has also been treated as under owner-like possession i.e. "owned".
Quarters – The accommodation occupied is provided or allotted by the employer, Public or Private, to any member of the household on lease or on rent for a short term then the dwelling has been treated as "quarter".
Other rented /hired accommodations – The dwelling is leased or rented in by the household on its own for which payment is made periodically then the occupancy is treated as hired and classified under "other hired accommodation".
Housing classifications : Based on the type of construction

Single-Detached House – A single dwelling not attached to any other dwelling or structure (except its own garage or shed.) A single-detached house has open space on all sides, and has no dwellings either above it or below it.
Semi-Detached House – One of the two dwellings attached side by side (or back to back) to each other, but not attached to any other dwelling or structure (except its own garage or shed.) A semi-detached dwelling has no dwellings either above it or below it and the two units, together, have open space on all sides.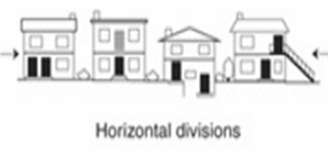 Row House – One of three or more dwellings joined side by side (or occasionally side to back), such as a town house or garden home, but not having any other dwellings either above it or below.
Apartment or Flat – An apartment or a flat consists of 3-15 storey and each floor or storey may accommodate 2-4 tenements. The Land and other common amenities appurtenant to flats are shared by all the occupants. The individual flat owner has no future scope either vertical or horizontal expansion.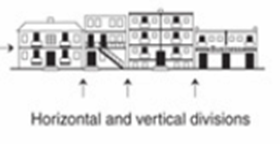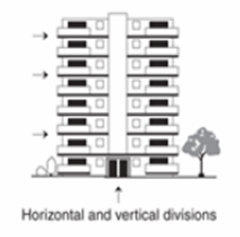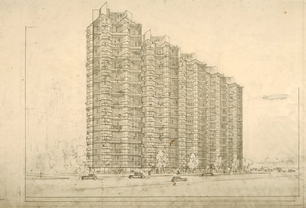 Skyscrapers – The growing need of land and consequently sudden shooting rise in price of land in big and metro cities further led the concept of multi-storeyed buildings, popularly known as skyscrapers.
A skyscraper is a tall, continuously habitable building of many floors, usually designed for office, commercial and residential use. There is no official definition or height above which a building may be classified as a skyscraper and at which height it may not be considered a high-rise anymore.
Group Housing – A housing society or apartment associations is a situation popular in India with a group of house owners within a residential complex, usually one consisting of buildings that each have flats. A housing society's apartments or premises are formed as per relevant laws for smooth functioning of utilities and other amenities provided to them. The housing society formed must be formally registered with registrar of co-operatives. In India, each state has its own rules in this regard. Each building in same premise may have separate housing society or one. Many housing societies form one federation. Housing societies run on the service charges levied by them on house or flat owners. Some of the housing societies in Mumbai are cash rich, having millions of rupees in their bank account.
The Managing Committee takes care of the affairs of the Housing Society like appointment of service providers, maintenance of Society premises, solving member's grievances, maintenance of books of accounts and taking care of safety and security.
It can also be defined as a third type of domestic architecture which accommodates the group rather than the unit and is therefore public as well as private. It is familiar through the widespread development of mass housing in the modern world, in which individuals or families find living space either in multiple dwellings or in single units produced in quantity.
Housing : Important component of Development
Housing plays an important role in development of a Region/Nation:
Housing constitutes the major investment in contributing to the up gradation of the level of living of the people. It has both direct and indirect impact on the economy of the Nation in general and families in particular.
Good Housing improves the living standard, especially of the low and lower income groups, whose living conditions are generally poor.
It plays multiple role of creating employment facilities, accelerating economic growth, maintaining health and social stability and preserving values of a descent family life.
Good Housing brings down unsocial activities, crimes, which breed and grow in slums and squatter settlements and also discourages their development.
The increase in housing activity needs more building materials like bricks, tiles, timber products, sand metal, electrical and sanitary equipments, plumbing materials etc. Most of them produced by small scale industries, thus leading to development of more industries and thereby more job opportunities.
Housing brings considerable income to the Central, State and Local Governments by ways of
Stamp Duty and registration charges
Building License fees
Property tax
Building tax
Sales tax on materials purchased
Service Tax etc
Thus any amount invested in Housing has multiplier effect and therefore it is a productive and developmental activity. In general, it can be stated that the housing has potentiality to a great extent in promoting human welfare, social life, economic growth, health of community and various other related aspects of human life.
Housing demand & Housing need
Housing demand refers to the willingness and ability to purchase a house.
Housing need refers to the number of houses required, given growth in households, itself derived from household size and population grow in that particular Area.
Housing Shortage or Need
A deficiency or lack in the number of houses needed to accommodate the population of an area is called as Housing Shortage of that particular Area.
The new needs for housing units get generated by the rate of growth and the size of the future population as well as the rate of family household formation. Besides, that portion of housing stock which becomes deterioration and obsolete needs replacement over and above the needs arising out of the growth of population and households.
Estimation of Housing Shortage
The methodology to find out housing shortage is illustrated in given table below. The data is to be taken from census for particular area. Quantitative housing shortage for a given period and for a particular area can be derived from census.
| | | | | |
| --- | --- | --- | --- | --- |
| No. | Component | Rural | Urban | Total |
| I | Number of Households | x1 | x2 | x1+y1=x3 |
| II | Number of Occupied Houses | y1 | y2 | y1+y2=y3 |
| III | Shortage( Over Crowding) | (x1-y1)=z1 | (x2-y2)=z2 | z1+z2=z3 |
| IV | Houseless Families ( estimated) | a1 | a2 | a1+a2=a3 |
| V | Total Quantitative Shortage | z1+a1=a4 | z2+a2=a5 | a4+a5=a6 |
Assessment of shortage of Housing both by Quantity and Quality
For calculating quantitative and qualitative housing shortage we need to classify, and to estimate the number of houses, which are below minimal , accepted standards.
| | | | | |
| --- | --- | --- | --- | --- |
| No. | Component | Rural | Urban | Total |
| I | Houseless families | a1 | a2 | a3 |
| II | Overcrowding Families | z1 | z2 | z3 |
| III | Houses below minimal Standards | c1 | c2 | c3 |
| IV | Total Shortage both Quantitative and Qualitative. | a1+z1+c1= α | a2+z2+c2=β | a3+z3+c3=γ |
The total shortage both quantitative and Qualitative is arrived by 'α' for rural 'β' for urban and 'γ' as total.
Housing Age
The Housing Age is defined as the timeframe of a building/house till it remains livable for the households or till its demolition from the time of its construction and demolition have different aspects like Socio-economic condition of a region and household, Natural Disasters etc.
The Housing Age depends on various factors:
Type of Construction
Material & Techniques Used in Construction
Social- Economic conditions of a Region and Household
Type of Construction:
Pucca:
Semi-pucca:
Katcha structure:
Material & Techniques Used in Construction: Advancement in Material & Techniques used in construction has considerably increased the present Housing Age. But Historical buildings have more Housing Age compared to the present Housing age due to their unique building Techniques and Materials used in construction which is not possible in present context due to many constraints like Construction time, Finances included etc.
Social- Economic conditions of a Region and Household: Housing Age also depends on Social-Economic condition of a Region and Household, it defines the type of construction, material and technique to be used e.g. economically weaker section cannot afford advance technique and material use in construction.
National Housing Policy & CM's Jan Awas Yojana -2015
Social Factors Affecting Housing
Housing affordability : Affordable housing
Slum up-gradation
Core Housing
Community Housing
Housing Standards
As per IS 8888 (part-I) : 1993 Indian Standard OF LOW INCOME HOUSING – GUIDE
HOUSING FINANCE
Download PDF on Study notes of housing
Study notes of Housing for student in X Sem. (B. Arch.)
Register in Front Desk Architects & Planners Forum to download above PDF
Disclaimer
Information on this site is purely for education purpose. The materials used and displayed on the Sites, including text, photographs, graphics, illustrations and artwork, video, music and sound, and names, logos, IS Codes, are copyrighted items of respective owners. Front Desk is not responsible and liable for information shared above.