New Panchayat samiti building in Rajasthan are constructed at Shekhala & Bapini in Jodhpur , Sarwar in Ajmer, Bijolia in Bhilwara , Bidasar, Churu, Dowda & Jhothari in Dungarpur , Pawata & Jalsu in Jaipur , Rishabdev & Semari in Udaipur and Navan & Molasar in Nagaur .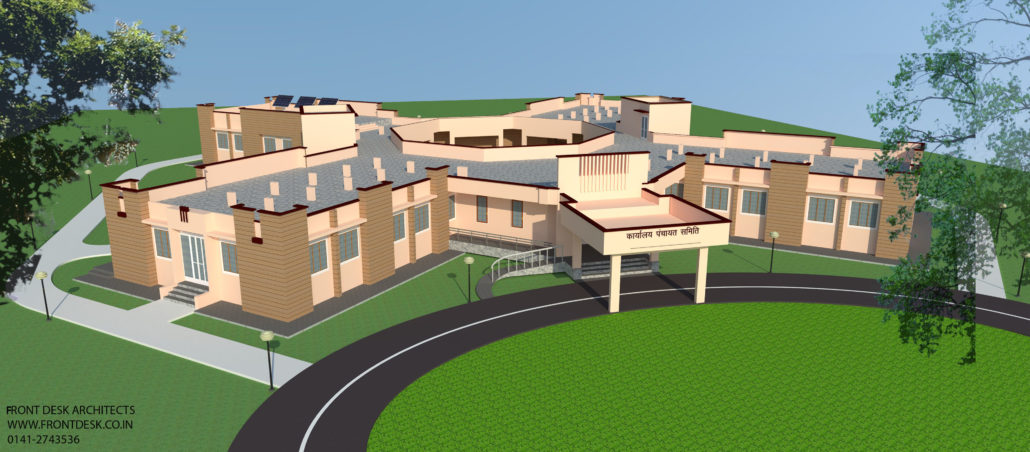 37 Panchayat samiti building are constructed in Rajasthan on one model drawings.
14 Panchayat samiti building are completed and rest are near completion
Use of courtyard and other passive design feature to increase daylight and there no need of artificial light in day time
60 Ton Reinforcement steel is used in the RCC Frame structure of building.
Shekhala Panchayat Samiti, Jodhpur
Project Details
Project Stage : completed in 2018
Built-Up Area : 14,000 sqft
Organization : Panchayati Raj Department, Government of Rajasthan
Address: Jaisalmer – Jodhpur Road, Shekhala, Rajasthan 342025
Satellite Location : 26.517259, 72.391498
Role : Architectural Consultancy
BAPINI Panchayat Samiti, Jodhpur
Project Details
Project Stage : completed in 2018
Built-Up Area : 14,000 sqft
Organization : Panchayati Raj Department, Government of Rajasthan Address: Bapini, Rajasthan 342312
Satellite Location : 26.997714, 72.988238
Role : Architectural Consultancy
Sarwar Panchayat Samiti, Ajmer
सरवाड़ पंचायत समिति, अजमेर
Project Details
Project Stage : completed in 2018
Built-Up Area : 14,000 sqft
Organization : Panchayati Raj Department, Government of Rajasthan Address: Sarwar, Ajmer, Rajasthan
Satellite Location : 26.053259, 75.032330
Role : Architectural Consultancy
Rishabhdev Panchayat Samiti, Udaipur
ऋषभदेव पंचायत समिति, उदयपुर
Project Details
Project Stage : completed in 2018
Built-Up Area : 14,000 sqft
Organization : Panchayati Raj Department, Government of Rajasthan Address: Rishabhdev, Udaipur, Rajasthan
Satellite Location : 24.070329°, 73.692225°
Role : Architectural Consultancy
Jhallara Panchayat Samiti, Udaipur
झल्लारा पंचायत समिति, उदयपुर
Project Details
Project Stage : completed in 2017
Built-Up Area : 14,000 sqft
Organization : Panchayati Raj Department, Government of Rajasthan Address: Jhallara , Udaipur, Rajasthan 313038
Satellite Location : 24.045838°, 74.087915°
Role : Architectural Consultancy
Phalasiya Panchayat Samiti, Udaipur
फ़लासिया पंचायत समिति, उदयपुर
Project Details
Project Stage : completed in 2017
Built-Up Area : 12,000 sqft
Organization : Panchayati Raj Department, Government of Rajasthan Address: Phalasiya, Udaipur, Rajasthan 313701
Satellite Location : 24.232764°, 73.366278°
Role : Architectural Consultancy
Semari Panchayat Samiti, Udaipur
सेमारी पंचायत समिति, उदयपुर
Project Details
Project Stage : completed in 2017
Built-Up Area : 14,000 sqft
Organization : Panchayati Raj Department, Government of Rajasthan Address: Semari , Udaipur, Rajasthan 313903
Satellite Location : 24.060333°, 73.864806°
Role : Architectural Consultancy