The Building Approach 
The distance view 
The Building Entrance 
From outside to inside 
Configuration of Path 
The sequence of space 
Path & Space Relationship 
Edges , nodes and termination of path 
Form Of The Circulation Space 
Corridor , Balconies , Galleries , Stairs , Rooms
The Building Approach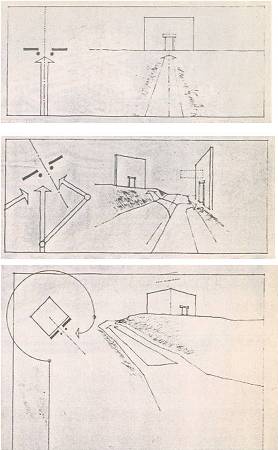 Frontal
A frontal approach leads directly to building entrance along a straight axial path
The visual goal that terminates the approach is clear ; it can be entire front facade of a building or an elaborated entrance within it.
Oblique
Enhance the effect of perspective on a building front façade and form
Path can be redirected one or more times to delay and prolong the sequence of approach.
Spiral
A Spiral path prolongs the sequence of the approach and emphasizes the three dimensional form of building and it moves around the buildings parameter.
The buildings entrance might be viewed intermittently during the approach to clarify its position or it can be hidden until the point of arrival.
Examples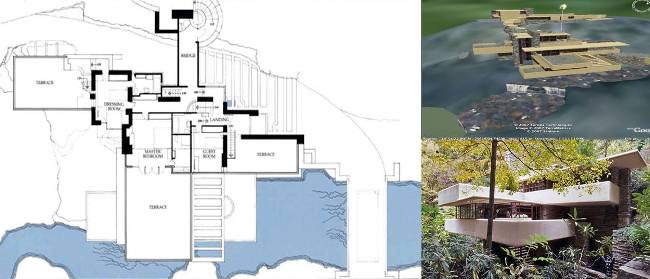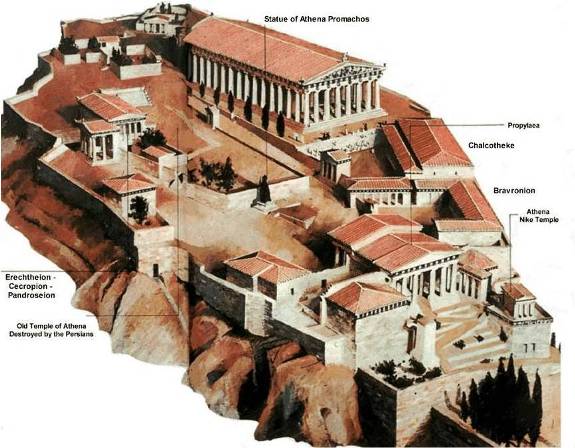 Building Entrances
Entering a building involves the act of penetrating a vertical plane that distinguishes one space from another and separates "here" from "there."
An entrance is signified by establishing a real or implied plane perpendicular to the path of approach.
Entrances can be flush, projected and recessed.
Flush entrances maintain the continuity of a walls surface and can be deliberately obscured.
Projected entrances announce their function to the approach and provide shelter overhead.
Recessed entrances also provide shelter and receive a portion of exterior space into the realm of the building.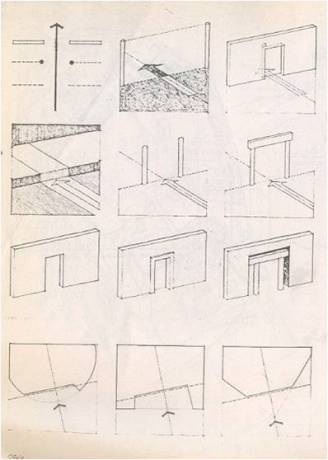 BUILDING ENTRANCES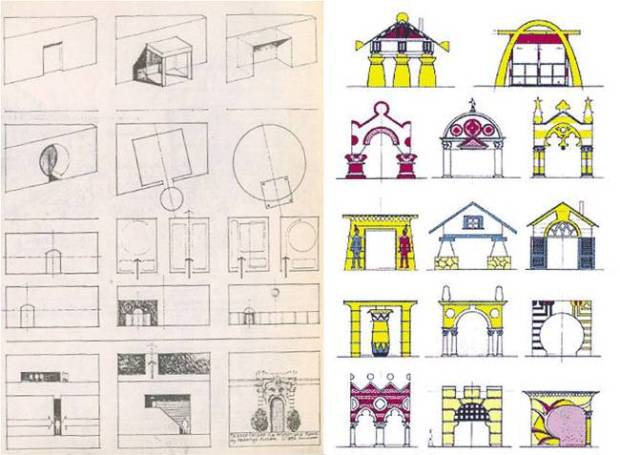 An entrance can be centered within the frontal plane of the building or  it can be placed off center and create its own symmetrical condition about its opening.
The notion of an entrance can be visually reinforced by
Making the opening lower, wider, or narrower, than anticipated.
Making the entrance extra deep or circuitous.
Articulating the opening with ornamentation or decorative embellishment.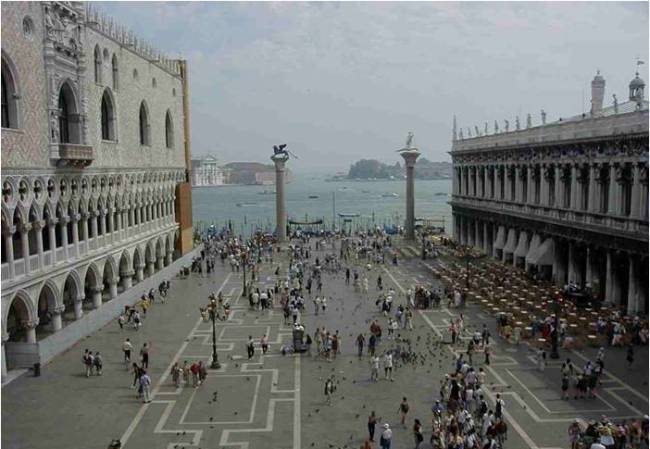 View framed by doges palace on the left and scamozzi's library on the right .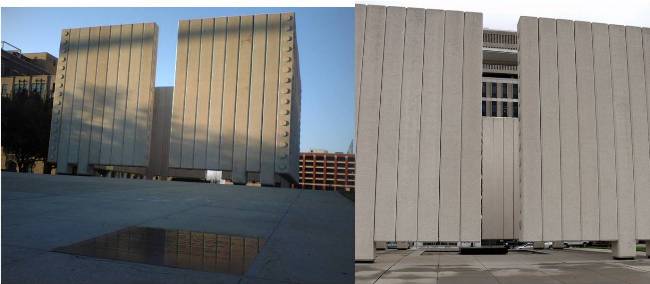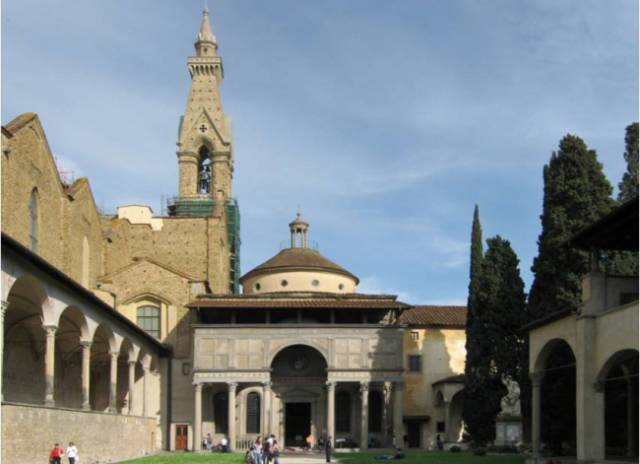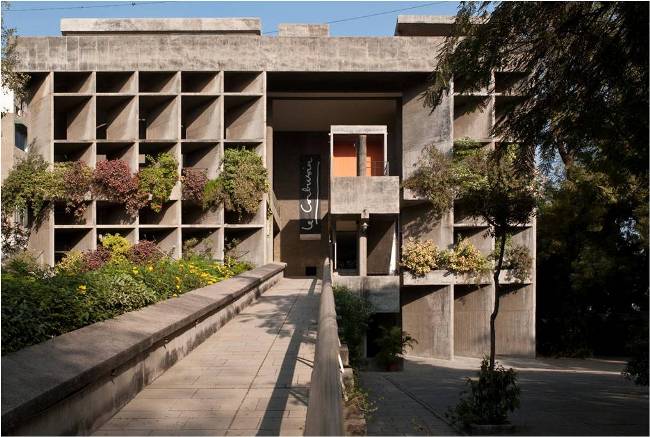 Configuration of the Path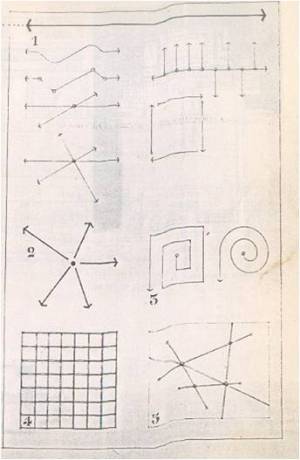 LINEAR All paths are linear , A Straight path , however can be primary organizing element for a series of spaces.
RADIAL Path extending from , or terminating at central common point.
SPIRAL Is a single continuous path that originates from a central point revolves around it.
GRID  Consist of two set of parallel paths that intersect at regular intervals
NETWORK  Consist of random path that connect established point in space
COMPOSITE Employs combination of the preceding forms
PATH . SPACE RELATIONSHIP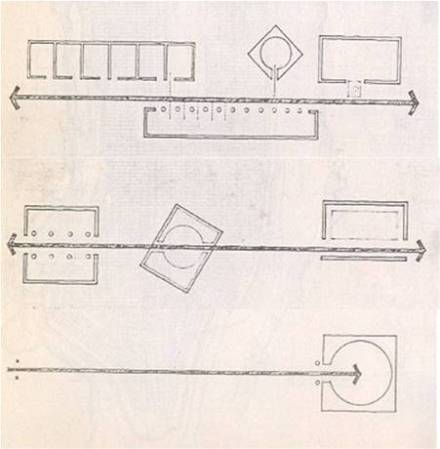 PASS BY SPACES :
The integrity of each space is maintained
The configuration of path is flexible
Mediating space can be used to link the path with spaces
PASS THROUGH SPACES
The path may pass through a space axially, obliquely or along its edge
TERMINATE IN SPACE
The location of space establishes the path
This path –space relationship is used to approach and enter functionally or symbolically important spaces
Taken form :Architecture, form, space & order by D. K. Ching
Slide Show Presentation
Forum Threads
Register as member & Download PDF
Register as member and login to download attachment [pdf] by right-click the pdf link and Select "Save link as" use for Educational Purposes Only .