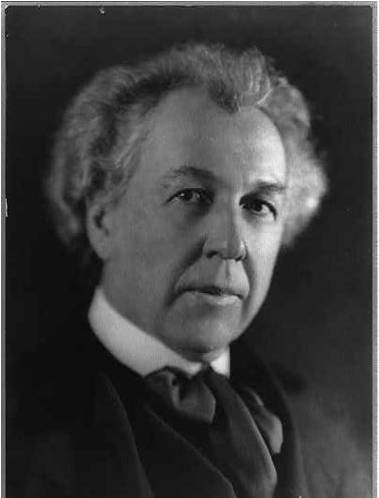 Considered best architect of last 125 years.
Known for 'Prairie Style' architecture, characterized by asymmetrical plans and low, wide overhanging eaves.
American Architect Worked under Louis Sullivan.
Influenced by the British Arts and Crafts Movement.
Influenced European modern architects created the philosophy of ORGANIC ARCHITECTURE, which maintains that the building must develop out of its surroundings.
Use of natural materials like bricks, stone and wood,textured concrete
"Do not try to teach design. Teach Principles."
Kauffman House – Falling Water, Pennsylvania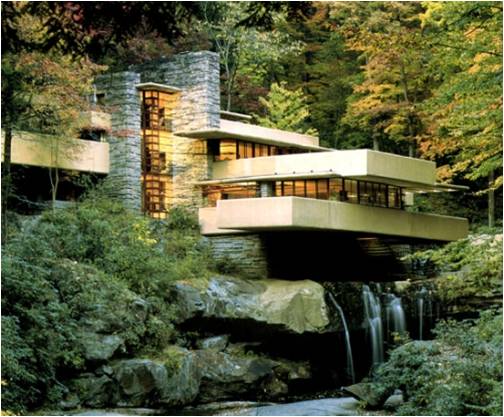 Organic Architecture is a term Frank Lloyd Wright
used to describe his approach to architectural design.
Organic architecture is an architecture from within outward, in which entity is an ideal… organic means intrinsic – in the philosophic sense,
entity – wherever the whole is to the part as the part is to whole and where the nature of materials the nature of purpose, the nature of entire performance ,
becomes clear as a necessity.
Wright argued that "form and function are one."
Falling Water, Bear Run, PA 1935-37 AD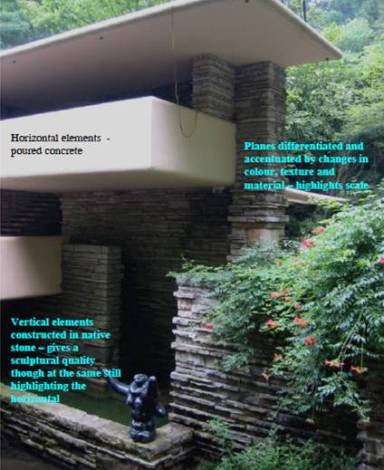 Organic architecture strives to integrate space into a unified whole.
Frank Lloyd Wright was not concerned with architectural style, because he believed that every building should grow naturally from its environment.
Planes differentiated and accentuated by changes in colour, texture and material – highlights scale.
Vertical Elements constructed in native stone gives a sculptural quality though at the same still highlighting the horizontal.
The philosophy grew from the ideas of
Frank Lloyd Wright's mentor, Louis Sullivan,
who believed that "form follows function."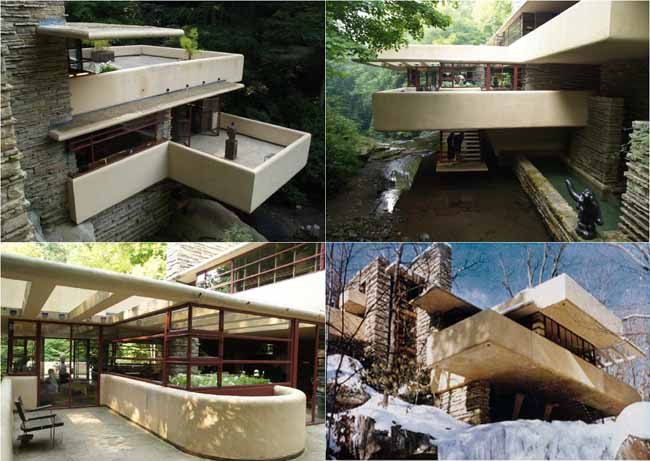 Wright described it as the principle of repose where forest, stream, rock and all elements of structure are combined quietly.
Features : Clustered organization around central core.
Cantilevers extend living areas with the surrounding landscape.
Concrete slabs exaggerate horizontal floor and roof planescantilever from a central core.
Pfeiffer quotes Wright as "I had an idea that the horizontal planes in buildings belong to the ground".
Falling Water Interior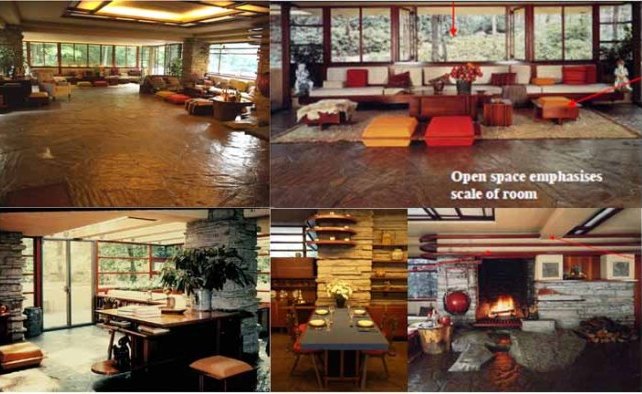 Characterized by – Strong visual accent.
Hearth symbolic – comfort
Detail draws eye to ceiling – emphasize the horizontal and change in form.
Continuation of material in interior harmonises both inside and out.
Attempt to blur the distinction between the inside and exterior.
Simple interior encourages the incorporation ot hte outdoors as part of the overall design.
Repetition of form in furniture continues to accentuate the horizontal.
Open space emhasizes the scale of room.
Robie House, Chicago, IL 1906-09 AD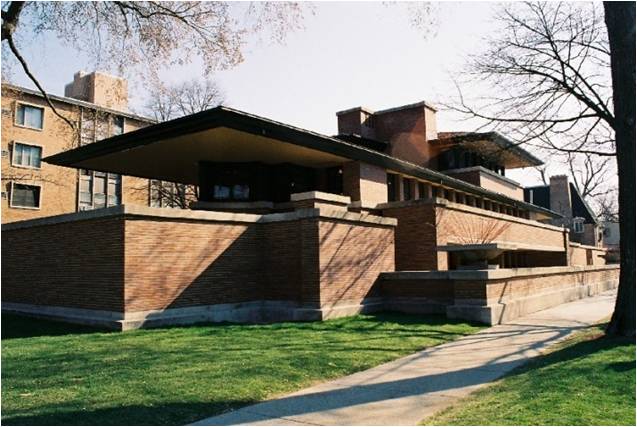 FLW spatial geometry reflects his structure invention ; lighting reinforce space , furnishing reiterated his linear schemes , construction materials and his every ornamental detail is integrated with larger concerns.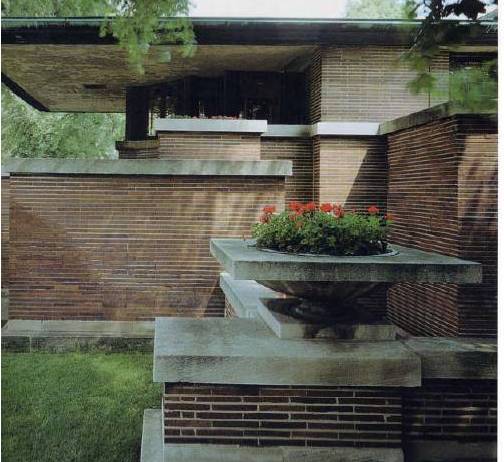 Even though the horizontal plane is the dominant characteristic of Wright's designs there is still a complex arrangement of space as demonstrated by the 3-dimensional quality of the facade.
Robie House Interior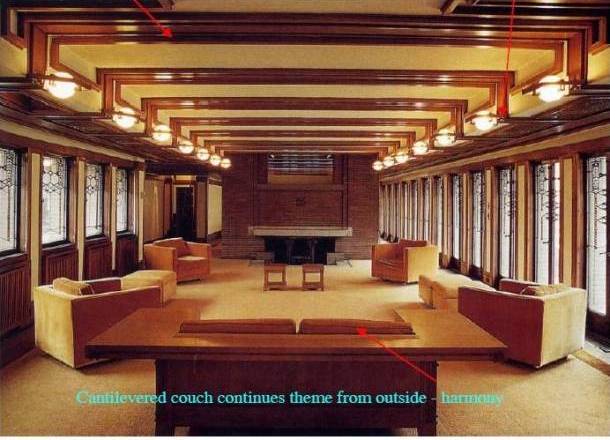 Materials repeated on inside creates texture- Harmonious use of materials.
Ceiling , wall and floor planes all emphasize the horizontal.
Vertical panes in contrast to the horizontal effect created by repetition of windows.
Prairie School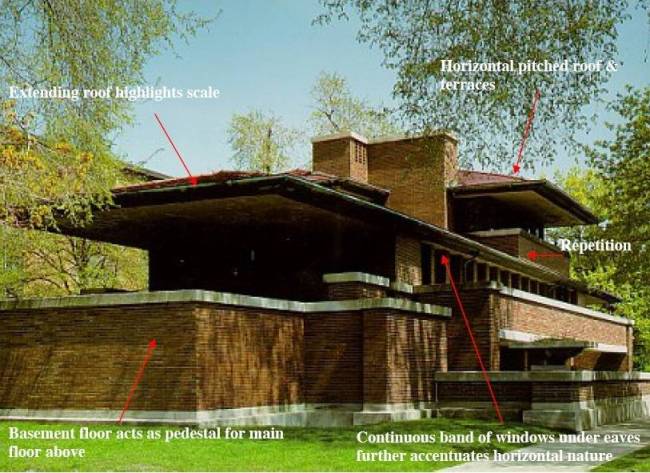 Broad, gently sloping roofs with low chimneys, balconies and terraces extending in several directions.
Emphasis on natural materials-woods stone.
Leaded windows patterned with colored glass.
Bands of casement windows.
Wood strips to emphasize structural elements horizontal lines.
windows grouped in horizontal bands, integration with the landscape.
solid construction & indigenous materials.
Horizontal lines were thought to evoke and relate to the native prairie landscape.
Winslow House,Oak Park, IL 1893 AD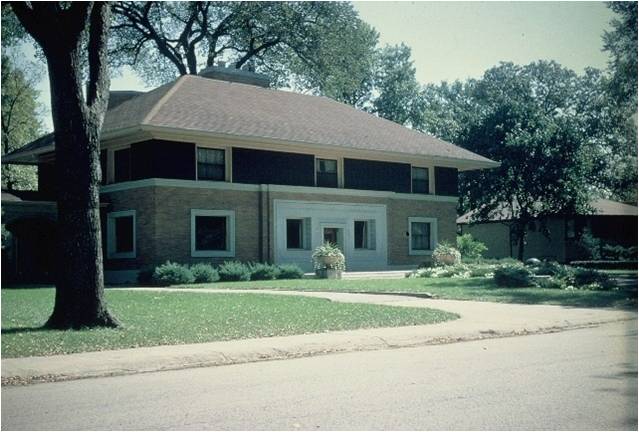 The Winslow House, combined Sullivanesque ornamentation with the emphasis on simple geometry and horizontal lines that is typical in Wright houses.
Slideshow Presentation
Forum Threads
Frank Lloyd Wright (FLW) – Guggenheim Museum,NYC 1948 AD
Frank Lloyd Wright (FLW) – Johnson Wax Administration Building, WI.
Frank Lloyd Wright (FLW) – Taliesin East, Spring Green, WI 1911 AD
Frank Lloyd Wright (FLW) – Unity Temple, Oak Park, IL 1906 AD
s
Frank Lloyd Wright (FLW) – Ward Willet House,Highland Park, IL , 1893
Frank Lloyd Wright (FLW) – Winslow House,Oak Park, IL 1893 AD
v
Frank Lloyd Wright (FLW) – Prairie School
s
Frank Lloyd Wright (FLW) – Robie House, Chicago, IL 1906-09 AD
Frank Lloyd Wright (FLW) – Falling Water, Bear Run, PA 1935-37 AD